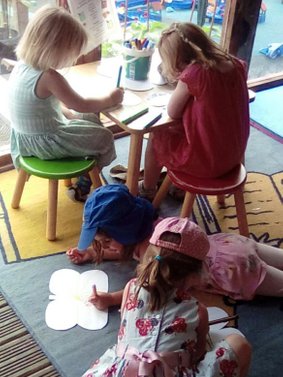 We asked parents and carers what they like most about Kennford Playbox....
The staff without a doubt. The strong team that Playbox has are dedicated and compassionate. There is a real drive to help each and every child succeed to be the best they can be not only in an academic way but on a personal level too. We really feel the staff know the children so well and are so easy to come to with any concerns (as well as a nice chit chat!)
The cosy and welcoming inside of the building plus the thoughtful spaces outside for children to explore. Lovely keyworkers.
Indoor and outdoor activities, tapestry, all the different animals kept at the setting for the children to observe.
Range of activities – every day is different. Greeted with kindness and happiness every day. The staff want the kids there and the kids thrive on this and love coming. Love the space, indoors and out. Children's ability to choose and explore.

Favourite topics: vets and pets; jack and the beanstalk; Gingerbread man.
We chose Playbox following recommendations from friends. Once visited we felt it was a friendly, safe and nurturing Early Years setting. Since starting my daughter enjoys a varied topic base, her favourite time is singing time!
The team of staff are attentive and caring whilst being professional. They form obvious bonds with the children.
It's part of the community. Good links with Kenn C of E School. Good setting well supplied with educational toys. Staff are caring.
Everything. Tapestry, to keep us informed. The amount of activities they plan for every day. The teaching through everything they do. The independence they give to children. Their lovely care.
I chose Playbox on recommendation from another mother. I was planning on viewing two pre-schools but after visiting Playbox I didn't even bother looking at the other one! This is not the closest pre-school to our house but I knew my son would fit in straight away. We are a very outdoorsy family and love the outdoor space and activities that Playbox offers. I particularly like the links to nature – tadpoles, chicks, plants etc. I also like the ever changing topics that keep the children engaged and interested. After a year of attending I haven't once had to force my son to go, he absolutely loves it and it's his favourite days of the week!

The overall feel of Playbox suits my daughter, there appears to be equal attention to group activities and individuals, the staff are all very amiable.
My daughter likes role playing, learning to count and write. The setting is fabulous like a Pandora's Box of fun! My daughter's favourite topic has been dinosaurs and pirates recently. It is a fun and friendly atmosphere all the time.